The Jacob Elmer Clan, a family history organization, began at a family gathering in Clackamas, Oregon on Sunday, August 18, 1929. Following a large picnic dinner and social gathering, a formal meeting was called to order. The first order of business was to "decide whether or not a permanent organization of the group should be perfected." The motion was made and unanimously approved resulting in our creation. They then went on to define the name, purpose, structure, officers elected, committees created, and a collection taken and meeting adjourned.
This web site was created as a means of easily conveying information to family members in this modern age. The purpose of this site is to foster the mission of the organization our ancestors created. They believed that it was important to maintain our history, the connection to the past, and foster relationships among living relatives.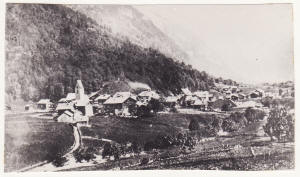 An Early Photograph of Elm, Kanton Glarus, Switzerland
Our common geographic origin.
---
Copyright © 2008 - 2022 - The Jacob Elmer Clan
Our Privacy Statement
This website is a participant in the Amazon Services LLC Associates Program, an affiliate advertising program designed to provide a means for sites to earn advertising fees by advertising and linking to amazon.com.
---
Web hosting and use of equipment sponsored by: